AN EXHIBITION BY NIKOS MOSCHOS AT XIPPAS GALLERY

By Pari Spinou
We initially met him through his...fingers, as Nikos Moschos was British actor Nick Ashdon's hand double in the well-known film by Yannis Smaragdis about Domenicos Theotokopoulos. However, although the 33-year-old painter admires El Greco,
Tintoretto, Goya, he keeps his distance from classic art. His paintings, which are exhibited in Xippas Gallery in Kolonaki, contain elements not only renaissance but also realistic, not only expressionistic but also graffiti. Direct and vigorous, his painting style is experiential but also with social implications.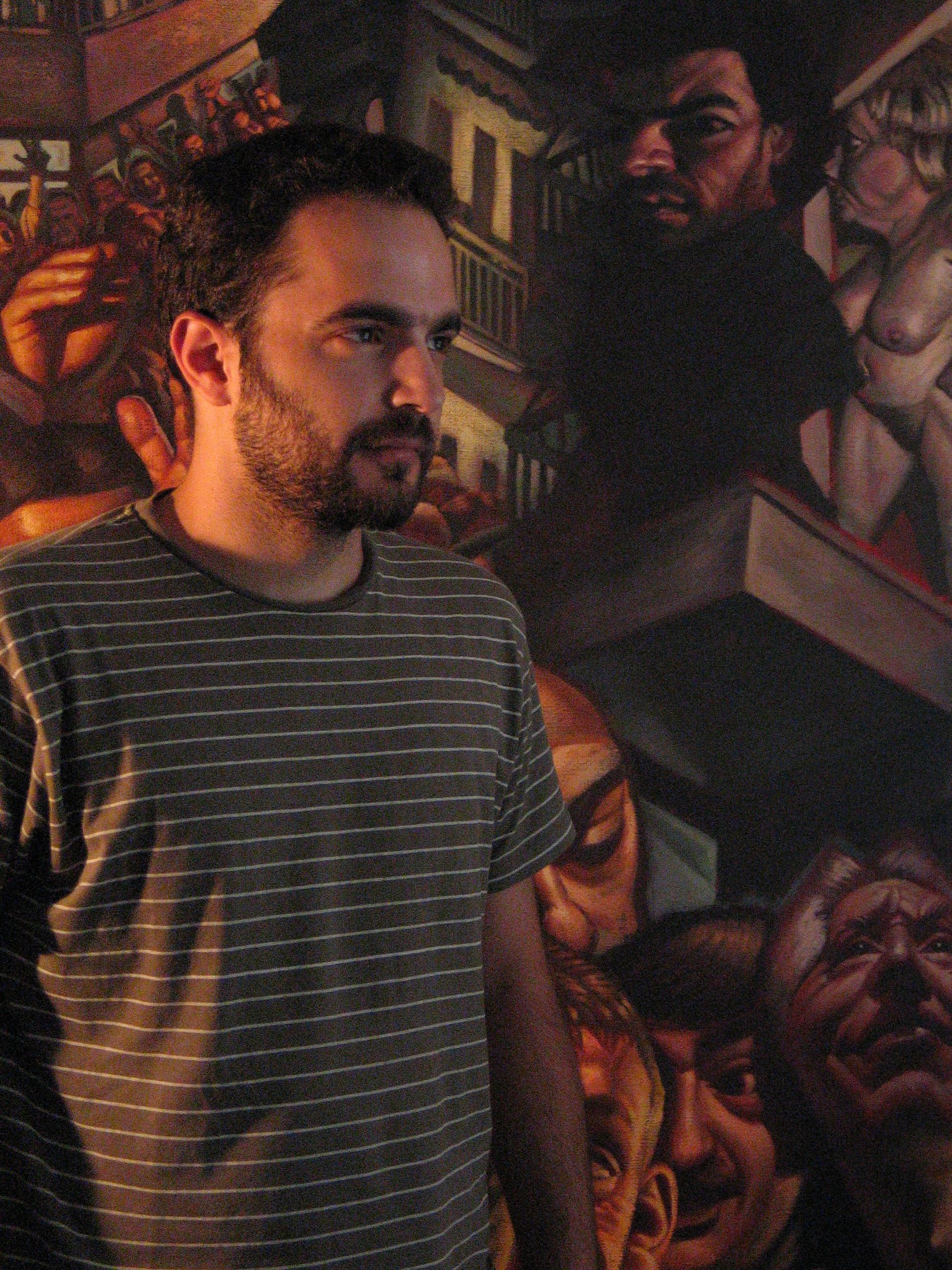 Using wild strokes, Nikos Moschos captures the dead-ends that himself and his generation face during the economic crisis. Naked human bodies, animal limbs, distorted faces, car engines, brass instruments, TV screens, wrecked buildings, gas masks get tangled up creating a fragmented and nightmarish universe."I didn't want to beautify the harsh reality" he tells us, as we observe his large canvases. "I am affected by the social and political events in Greece and the stories I make up stem from everything I experience and feel: suffocation, fear, panic. The crisis, the insecurity, have matured me as a person."
 He can feel the disappointment, however he doesn't lose his courage. "The inhospitable ground can bring on new things", he stresses. "It's time for responsibility, self-criticism and self-awareness. Older people surely bare the lion's share of responsibility for the current situation and my generation pays the price. Nevertheless, we shouldn't focus only on protesting, but actually take action. It is hopeful that volunteer groups are created in an effort to change our city and our way of life. There is greater collectivity and solidarity."
 For Nikos Moschos, painting was inevitable. His father, an art restorer and icon painter, introduced him to his workshop from a young age. "I spent my days among colors and pencils. I don't remember since when, but I know that I cannot live without painting." Having had exhibitions in and outside of Athens, his works owned by prominent private collections, he feels lucky to be able to make a living as an artist. Hard work, patience and perseverance are his compass. "I work daily for 10-11 hours, I even suffered from exhaustion." He makes numerous drafts, a lot of changes on the canvas; "underneath each painting , there are two more paintings", he says laughingly.
 He has spent countless hours studying the most important pieces of art at the biggest foreign museums. "Painting dies only when those who use paintbrushes kill it", he points out. "Painting moves forward, it evolves, it's not worn out." It's just that, as always, there is good and bad in art, not old and new."
 It is essential, according to his opinion, that the visual arts world escape from the inadequacy of the institutions and the reign of old people. "It frustrates me that some greedy dinosaurs don't make room for younger people. Luckily, there are exceptions such as "Ploes" in Andros, the Athens Biennale, Kodra in Thessaloniki, which give opportunities for young artists to express themselves. And luckily, there are exceptional artists in my generation who are open to ideas and initiatives."
INFO: Xippas Gallery, Patriarchou Ioakim Street, Kolonaki, up until 26 January.