By Eleni Karatza


The new works of Nikos Moschos reflect the progress of the series presented in his two previous shows in 2012 and 2013, which had the title: 'The Marriage of Flesh and Machine'.
These works portray compositions which are built extensively by the crushing of disproportionate human body parts, machines, trees or new buildings.
These elements are sometimes recognizable and sometimes undefined,
they become members of a body where cause and effect coexist creating emotionally tensed situations.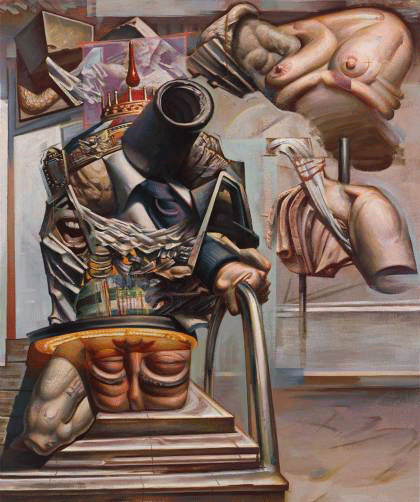 The unexpected angles, the distorted forms and semi stylized patterns are obviously originating from expressionism, comics as well as from the deeply rooted Byzantine iconography in Greece. Ancient remains of a glorious past involved with worthless scrap of today emphasize even more the timelessness of his view. Moreover time is the destroyer in front of which anything becomes equalized and therefore forms are constructed in a piecemeal and indivisible way. Within this collage of information, indifferently patterns of daily life are inserted, like the TV test patterns which reflect (according to the artist ) the lack of human will, while the sense of panic is enhanced by the optical noise of 'no signal'.
 The view of these images seem like constructions born of fatal conflicts whose effect is intolerable as well as compromised with this bizarre brood.
They look like monuments of humanity's loss of anything virtuous, defeated by animal instincts and especially the insatiable gluttony.
A man who progressively merged with iron and stone, but became simultaneously more vulnerable than ever.

He created fake fears, wrong needs and false expectations and submitted himself to them. His fears are fictitious and have the power of a 'b movie' monster (The Blob). Hereafter, bravery is not a virtue that springs from the need for freedom but walks along with stupidity and self humiliation.
Probably if he would meet with the supreme entities and UFO's, they would just confirm him how absurd it was to wait.


Perhaps the only thing left is to get out of the Plato's cave even if he becomes blind.