By Alexandros Diakosavvas


''Life and death situations that I 've faced have changed  certain aspects of my character, so now I feel that I've become more useful, which is essential in the era of great hatred...''
When I saw the digital images of Nikos Moschos works, presented in SWAB the international contemporary Art Fair in Barcelona, ​​I felt a sense of drowning and anxiety. These almost grotesque paintings of the series "The marriage of Flesh and Machine" present parts of the human body mixed with mechanical constructions and as I was waiting for Nikos (who had just returned from Spain), I had formed in my mind quite an intense picture of him. Instead of that I found myself talking to a low profile boy wearing a pair of grey jeans and a navy T-shirt.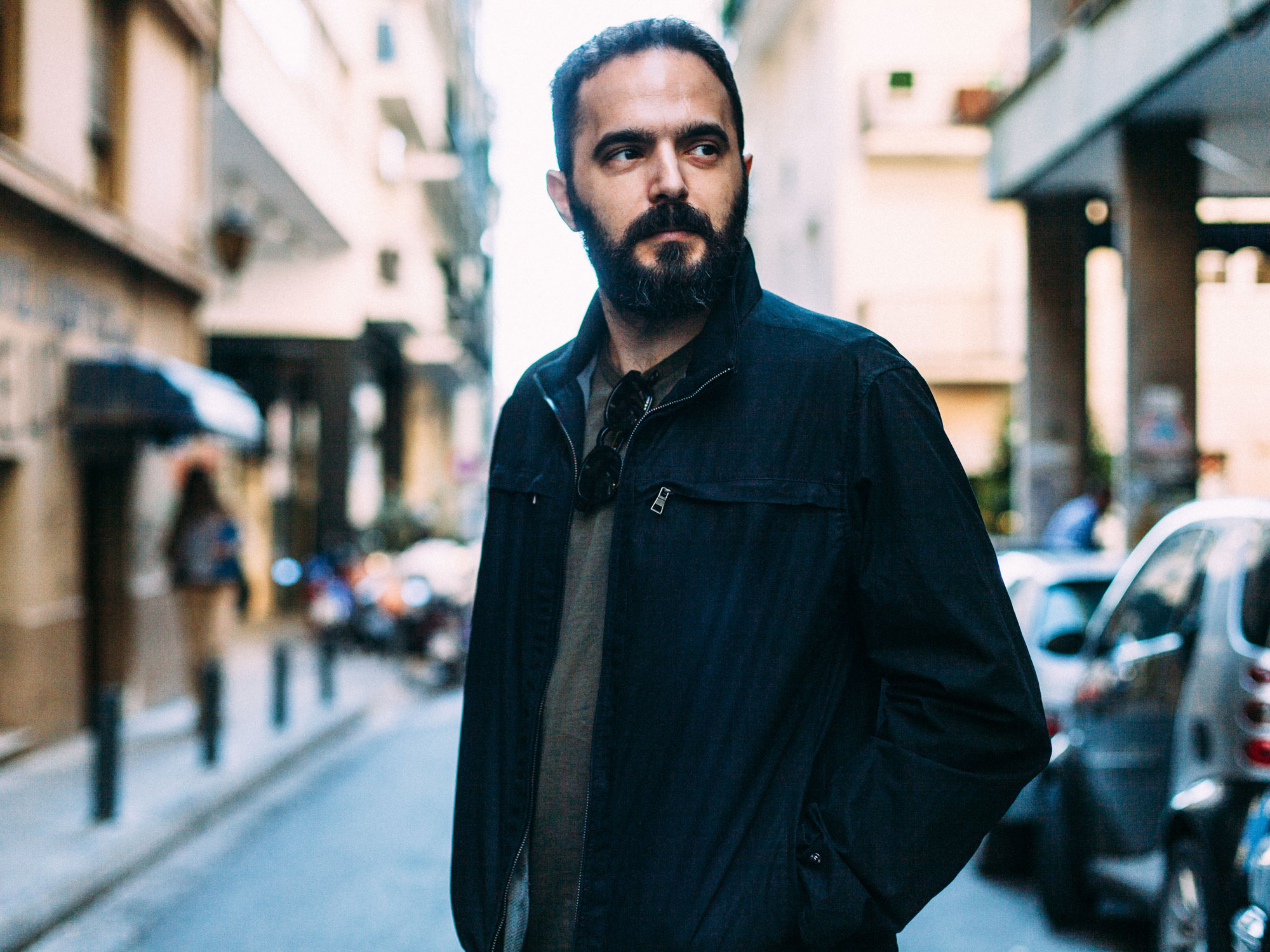 "It was the first time I have participated in the Barcelona art fair. SWAB was held in a wonderful place, the level of participants was high and I saw a lot of interesting works there. I 've met quiet interesting people, colleagues, gallery owners, journalists etc. The city was great! From the first day there I did several comparisons to the domestic situation of Greece. I would have liked to have stayed there longer. I had a really good time there because I have had a tough summer working. "
Meanwhile, for some reason I thought that Nikos was originally from Trikala, since the Alma gallery with which he participated in SWAB, is based in this city. I didn't guess right cause Nikos is Cretan. "Maria Albani, along with her son Nikolas, are the people running Alma gallery. When Maria contacted me and asked me to work with them I accepted immediately because I faced a woman with an artistic background. Her son Nikolas is he himself an artist too. I came along with their aesthetic criteria. I like the new beginnings with ambitious partners."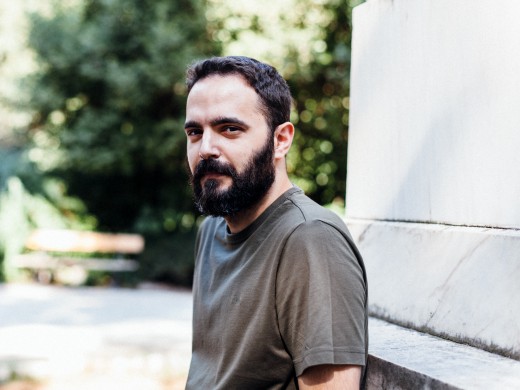 So, Nikos was born 35 years ago and grew up in Heraklion Crete. "Someone could easily say that Heraklion, unfortunately, from the point of art shows, is dead. I came to Athens at the age of 18, to study at the School of Fine Arts.  I worked really hard and I think that the biggest benefit was my contact with fellow students. You can get a lot more observing your colleagues than listening to the teachers. The ASFA has a fantastic library in which I have spent countless hours. In the 3rd year, during the annual show, Manos Stefanidis who was then director of the Frissiras Museum, was impressed by my work. Then after a couple of days Frissiras himself called me, came by my studio, and bought some works. That was my first selling experience. Through the Frissiras Museum, Angelos Delivorias, director of the Benaki Museum, saw my works and asked me to participate in the opening show at the new Benaki Museum at Pireos st.  - I was the youngest artist. It was a solid start, even before I had finished the School. So when I had my first solo show, in Ekfrasi-Gianna Grammatopoulou gallery, some people from the local art market already knew me. Since then there have been buyers who still support me. "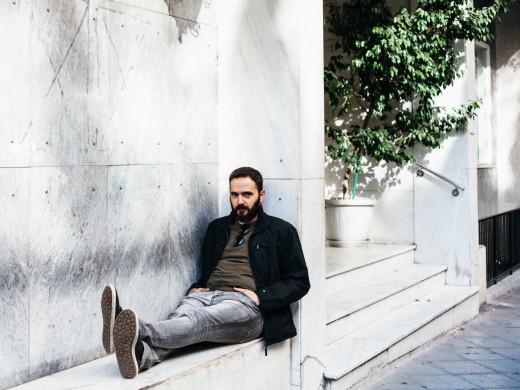 Nikos seems to have been making a living from the beginning of his career with his art and has no need to be "consumed" by other jobs. It is worth mentioning that his work is not only included in Greek collections and museums, but also in galleries and collections abroad. "I generally do not believe in luck, but there are a lot of worthy colleagues of mine who unfortunately can not live from their work.  I work continuously for years, I have never stopped painting, even on vacation. The "Wedding of Flesh and Machine", which we presented in Barcelona is the evolution of an idea that started in 2011. The main axis is the time that flattens and equalizes everything. Everything can melt and turn to something else. "
Gaspar Noes motto of his movie "Irreversible" (Time destroys everything) comes directly my mind, and I ask for some more explanation. "I refer purely to the materials. The material is denatured. I perceived it as a collage of separate parts that turn out to look like a monument. I'm seriously thinking of converting it in three dimensions. Even though man makes progress in technology, and is almost inseparable from the machine, he has become more vulnerable than ever. He is obsessed with nonexistent insecurities and fears, that have no meaning when someone sees the "bigger picture." That's the reason I use UFOs or The Blob, a well-known b-movie monster that first appeared in 1958 in the famous movie starring Steve Mc Queen. Back then everyone was horrified at its sight, in contrast to today that someone would die laughing. I use a ridiculous monster to associate it with ridiculous fears. These fears have been created by ourselves. We are bombarded every day with all sorts of things about what to do and how to do it in order to become succesful. It is a milder form of fascism. These works have a sense of black humor compared to the first body of works presented at the Xippas gallery in 2012. Those were a bit darker because they were produced at times when I was a bit depressed. I had to face various personal issues. After I recovered, my personal sense of humor showed up on my works.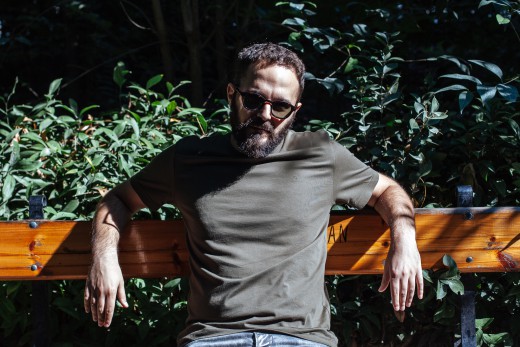 While talking about black and nihilistic humor, and looking at his works, I detected multiple influences in his work.  Elements of Expressionism, Dada and comics can be easily observed in them. So I asked him to talk about his influences. "I have studied various styles by making copies of old masters works. I like various things, from the cave paintings, Romanesque and medieval art to contemporary artists such as Hockney. I also felt something really familiar with the artists of New Objectivity in Germany. I should also refer to comics, b-movies and finally the kitsch, an inexhaustible expression format, probably the last thing that is going to die in this vain world".
I ask him if he uses kitsch elements in his everyday life, since his appearance is anything but kitsch. "You can not avoid it!  As far as my appearance I would say I'm a little bit of a coward. My home and my studio are enriched with such stuff. I don't underestimate it. The greek pop kitsch culture actually surprises me every time with its inventiveness! From posters on the road to tourist shops, it is inexhaustible."
I ask Nikos to describe to me how he has incorporated biographical elements in his work over the years. "I started to study strictly academic and from one point onwards my personal style gained priority. I mean that for a long time I felt I 've put  painting with its academic rules over me. Now I find that my psyche has taken purely precedence. I can not paint something that has no reason to exist in my life. As the years pass, of course one gets to know oneself better. I look very often in the past and compare it to the present. I compare the way I work, what I prefer, what I like to read, my opinions that have changed over time on many issues."

That explains the lengthy and descriptive titles he chooses to give to his works: "I feel like in the past I have isolated moments, functioning more in a specific time and space. For me right now the terms of the past have no value, because when you are facing essential life and death issues, all the rest is ignored. Clearly I recognize and respect the past and try to experience the extreme aspects of life and death like a documentary.  After encountering these aspects, you become a different person. I think someone becomes more useful, which is really a necessity in the era of great hatred. "

"Who are we hostile to?" I ask Nikos. "We have become each other's enemy. We have become short-sighted. Technology enables us to see exactly what is happening in the whole world. You can see shocking things happen every day. "

Nikos, however, does not deal at all with Photoshop and other related programs, since he thinks they are not necessary for his job. "I feel like someone interferes in my work.   I know the endless possibilities they offer, but I feel that somehow they would direct my perception. Of course, there is a whole generation doing great stuff with PS. But for me right now it is completely unnecessary.  Probably I can not handle it. I don't really feel comfortable with multiple solutions. I feel like I have to study them all. I would rather prefer to find my own solution." Things are very specific in my mind. I always want to keep the motive fresh. I make a lot of studies before every work. With Photoshop things would look more fake which is something I don't want.
Shortly before we say goodbye, and as I wanted to bring back the enthusiastic mood in our conversation I asked him about trips. "One of my favorite destinations is Istanbul. I found awesome to sit on the grass during the Ramadan celebration, along with so many people. I felt great intimacy. On the contrary, I find  London a bit miserable. The museums and exhibitions do play an important part in visiting a place.  Istanbul Modern is excellent! The Turkish people experiencing also an intense period which gives birth to great things."