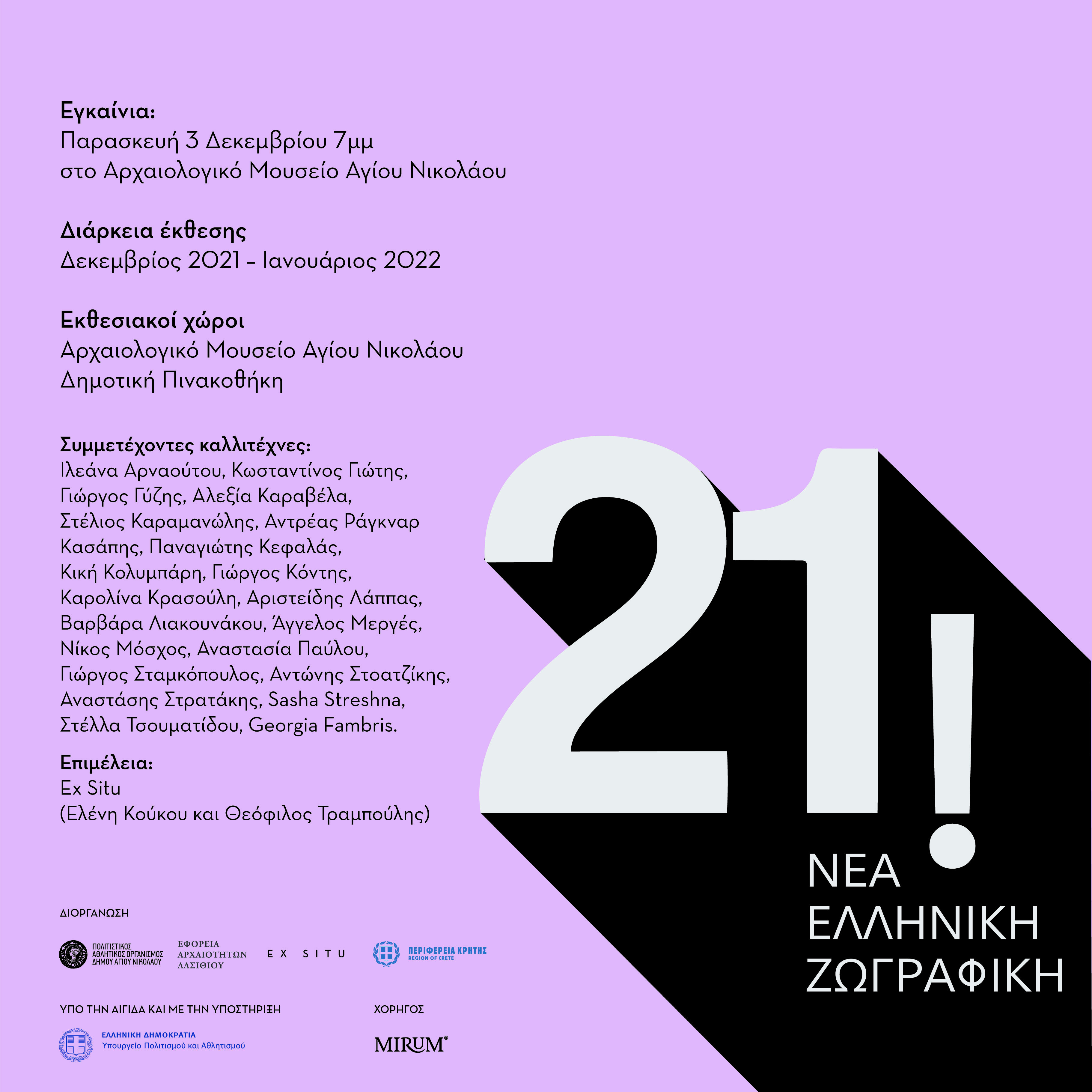 "21! New Greek Painting "is an exhibition about the present of new Greek painting, about its trends, its expressions, its interactions, its future.
It is an experimental exhibition on perhaps the most traditional medium, painting.
The exhibition "21! New Greek Painting "includes 21 painters who open new, exciting and unexpected paths in contemporary Greek art. Without certainties and without explicit conceptions, the exhibition leaves the viewer to create his own paths, to give his own answers and to develop his own emotional relationships with the work and its enjoyment.
The exhibition is organized by the curatorial team Ex Situ (Eleni Koukou and Theofilos Trampoulis) in the city of Agios Nikolaos in Crete and expands the systematic program of contemporary art of the Municipality of Agios Nikolaos and its Cultural Organization. In near future the exhibition "21! New Greek Painting "will be reorganized in Athens.

Participating artists: Ileana Arnaoutou, Konstantinos Giotis, Giorgos Gyzis, Alexia Karavela, Stelios Karamanolis, Andreas Ragnar Kasapis, Panagiotis Kefalas, Kiki Kolimpari, Giorgos Kontis, Karolina Krasouli, Aristides Lappas, Varvara Liakounakou, Angelos Merges, Nikos Moschos, Anastasia Pavlou, Giorgos Stamkopoulos, Antonis Stoatzikis, Anastasis Stratakis, Sasha Streshna, Stella Tsoumatidou, Georgia Fambris.
Opening: Friday, December 3, 7 pm at the Archaeological Museum of Agios Nikolaos
Duration: December 2021-January 2022 
Edited by: Ex Situ (Eleni Koukou and Theofilos Trampoulis), exsitu.gr
Organization: Cultural Sports Organization of the Municipality of Agios Nikolaos, Ephorate of Antiquities of Lassithi, Region of Crete and ex situ
Under the auspices and with the support of the Ministry of Culture