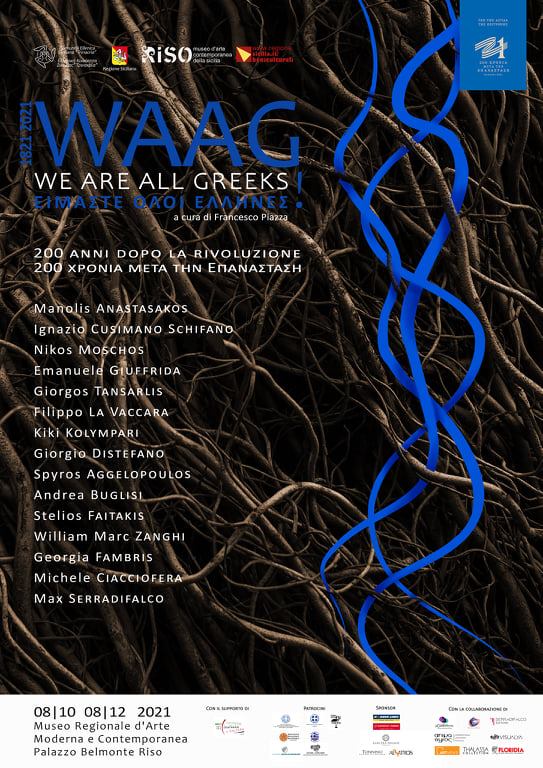 The group show ''WAAG. We are all Greeks 1821 '' dedicated to two hundred years of the Struggle for Greek Independence continues at the Museum of Modern and Contemporary Art Palazzo Rizzo in Palermo, from October 8 to December 8.
The project is based on an idea by Vassilis Karampatsas and Francesco Piazza, who is also the curator, and is developed in seven themes with concise texts, poems or excerpts of political speeches, as well as works by 15 artists from the Italian and Greek contemporary art scene.
The exhibition is organized by the Hellenic Community of Sicily "Trinakria", Palermo in collaboration with the Museum of Byzantine Culture of Thessaloniki and the Museum of Modern and Contemporary Art Palazzo Rizo, Palermo, where it will be transferred in September. It also enjoys the valuable support of the "Greece 2021" Commission, as well as of the Italian Educational Institute of Athens and the Region of Cultural Heritage and Sicilian Identity of Sicily.
Greece is represented by the artists Spyros Angelopoulos, Manolis Anastasakos, Kiki Kolympari, Nikos Moschos, George Tansarlis, Stelios Faitakis, Georgia Fambris, as well as the Italians Andrea Buglisi, , Michele Ciacciofera, Giorgio Distefano, Emanuele Giuffrida, Filippo La Vaccara, Ignazio Cusimano Schifano, Max Serradifalco, William Marc Zanghi.
08.10-08.12.2021
Museo Regionale d'Arte Moderna e Contemporanea - Palazzo Belmonte Riso
Via Vittorio Emanuele, 365 90134
Palermo 90134
Italy